How big is the food waste problem in America?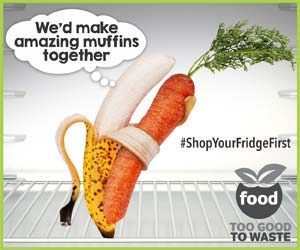 40% – Forty percent of food in America is wasted.
25% – Twenty-five percent of the food we each buy never gets eaten.
90% – Ninety percent of us throw away food too soon.
300 lbs. – Each of us tosses nearly three hundred pounds of food each year
$1500 – An average family of four throws out $1500 worth of food each year
Wasted food also wastes the energy and water used to create it, and the fuel and money used to bring it from the farm to your table.
Rotting food in our landfills creates methane gas, a powerful greenhouse gas. Preventing food waste is one of the easiest ways we can make an impact to reduce climate change. Here's how you can help!
PLAN
Plan meals so you know what you need from the store, and take the stress out of meal prep time trying to figure out what to make. Make a list of the ingredients you need, and shop your fridge and pantry first to see what you already have.
If you're hosting a dinner or party and are not sure how much to buy, try a food planning calculator like this Holiday Party Planner from Whole Foods, or this Thanksgiving dinner calculator.
SHOP
Stick to your list! Avoid those impulses. It's not a bargain if it will go bad before you can enjoy it, and you're less likely to throw out food if you already have a plan to use it.
PREP
Prep foods shortly after bringing them home. Things like crudité and melons are more likely to be grabbed as snacks if they're ready to go. Having prepped ingredients makes it easy to make healthy, tasty meals on a busy work night.
STORE
Don't forget your freezer! When you make a batch of sauce or a big pot of soup (an excellent way to use things up), store it in serving-sized containers for quick meals on the go.
Store cut herbs and asparagus just like flowers – in water! Don't wash berries until you're ready to eat them – store in in an airtight container with a dry paper towel. For more food storage tips to help keep food fresher longer, check out www.SavetheFood.com and www.StopFoodWaste.org
USE IT UP
Have a place in the refrigerator for "EAT FIRST" foods.
If you find yourself with some leftovers or random ingredients that you aren't sure how to prepare, try a handy app like Handpick or others that provide recipes based on ingredients.
Use up your Thanksgiving (and other) leftovers with great recipes from Jamie Oliver and from other famous chefs on Food Network's website.
DONATE
Order too much food, have a bumper crop this year, or just make too much? Keep it out of the landfill, and fill a need instead. Thanks to the Good Samaritan Act of California, businesses, restaurants, and good faith donors can now donate unused food to local food banks, nonprofit organizations, or directly to individuals without liability. Contact one of these local food banks:
Second Harvest Food Bank Santa Cruz County
Or find a food bank near you:
http://www.feedingamerica.org/
ROT IT
Create compost to get the most out of remaining food scraps and create nourishing soil amendment for your yard and garden. These organizations offer free composting workshops to local residents to help you get started:
Additional Resources
Bay Area Recycling Outreach Coalition
US EPA's Food Too Good To Waste Tool Kit
BUSINESSES
Some businesses may be required to participate in a food scrap and organics collection program, as mandated by AB 1826.
If your business is required to divert organics from the landfill, or if you simply want to be part of the solution rather than part of the problem, contact your waste and recycling collection service provider for help in getting started.
In Monterey County, many businesses are participating in the Monterey Regional Compost Program Organics to Energy that turns food scraps into compost and creates energy in the process.
MealConnect – Food donation pickup and delivery program
MEANS Database – Non-profit food rescue
Thank you for doing your part!