What is AB341?
AB341 is the California State mandatory recycling law that went into effect on July 1, 2012.  AB341 sets a 75% recycling goal for California by 2020, the most ambitious in the nation. The law originated with the intentions of keeping California at the leading edge of recycling, creating more green jobs, and keeping waste out of our landfills.
For a full explanation of the law and its origins, visit www.calrecycle.ca.gov/Recycle/Commercial/
Does mandatory recycling apply to me?
The mandatory recycling law known as AB341 applies to:
Commercial and institutional customers with waste service of 4 cubic yards or more each week
Multifamily residences (apartments, condominiums, townhomes) with 5 units or more
However, some local ordinances have stricter requirements. For example, all businesses and residences in unincorporated Santa Cruz County are required to recycle.
If you are in doubt or have any questions, click on your city, county or recycling and waste company link at the bottom of this page.
I don't meet the criteria for mandatory recycling. Why should I recycle?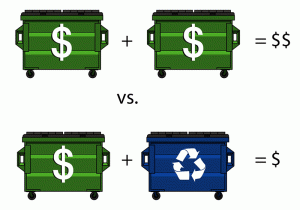 An effective recycling program can bring many benefits to your business such as:
Opportunities for businesses and multifamily complexes to save money
Boosting morale for employees and/or residents
Cleanliness
Improved public image
Attracting and retaining customers
For the tri-county area, the local impacts of achieving the 75% recycling goal equate to an additional 3,000 tons of recycling per day, resulting in:
Saving 21 million gallons of water per day
Saving enough energy to power 12,000 homes
A daily reduction of 90 tons of air pollutants
Creating more than 2,000 new jobs
You had me at "save money." How do I get started?
Your community recycling coordinators and waste service companies offer free waste audits and assistance to help you get the most out of your recycling program. Free services include:
Visiting your site to understand your facility logistics and nature of your waste stream
Design a recycling program customized to your needs and situation
Help you understand what is recyclable
Provide educational support
Click on your city, county or recycling and waste company link at the bottom of this page. Contact the recycling coordinator and tell them you want to start a recycling program.
What is AB 1826?
Some businesses may be required to participate in a food scrap and organics collection program, as mandated by AB 1826.
Other recent laws are also designed to help reduce organic waste from the landfill, where it decomposes and creates methane gas, a powerful greenhouse gas known to contribute to climate change.
SB 1383 sets a goal to achieve a 50 percent reduction in the level of the statewide disposal of organic waste from the 2014 level by 2020 and a 75 percent reduction by 2025. The law grants CalRecycle the regulatory authority required to achieve the organic waste disposal reduction targets and establishes an additional target that not less than 20 percent of currently disposed edible food is recovered for human consumption by 2025.
Recovering edible food for human consumption is a boosted by the passing of AB 1219, which expands the Good Samaritan Act of California to allow businesses, restaurants, and good faith donors to donate unused food to local food banks, nonprofit organizations, or directly to individuals without liability.
If your business is required to divert organics from the landfill, or if you simply want to be part of the solution rather than part of the problem, contact your waste and recycling collection service provider for help in getting started.
In Monterey County, many businesses are participating in the Monterey Regional Compost Program Organics to Energy that turns food scraps into compost and creates energy in the process.
Become a Green Business
Take it to the next level and realize even greater benefits for your business or multifamily complex, and become a certified Green Business. Contact your Green Business coordinator to learn how.
Support your local Green Businesses!
Special Thanks
Please join the Central Coast Recycling Media Coalition in thanking these businesses for their participation in our media campaign, and protecting our Central Coast!